CURRENT VERSION: 1.2.2
UPDATED 3.15.2001
Wanna help out?

M-Peedy is now, and will forever, remain free...but server upgrades and ISP accounts aren't.

Unfortunately, due to the amount of traffic this page and all my others generate, I'm forced to step up my server power. This is going to involve a small chunk of change... so if you'd like to donate a buck or two in the effort to see tools like M-Peedy continue to grow, please do! Thanks!

M-Peedy is a Windows utility to merge James Jessiman's LDraw .DAT files into .MPD (Multi-Part .DAT) format and split .MPD files back into their .DAT components.

When merging, an unlimited number of .DAT subfiles can be automatically converted, simply choose the master .DAT model file and M-Peedy will parse each subfile and add it to the .MPD automatically.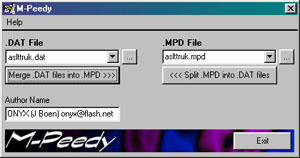 M-Peedy is only 81K (24K zipped) and you can DOWNLOAD IT HERE.
(This program requires the Microsoft Visual Basic 4.0 Runtime Module.)
View the current M-Peedy.txt file.
Thanks a *million* to my "official" beta-tester, Laurentino Martins for his persistence
and unending search for the inevitable bugs in my code. LM, you were a great resource.
Any questions, comments, requests, suggestions or bug reports... please email me at onyx@malagraphixia.com
LEGO is a trademark of The LEGO Group which does not sponsor, authorize or endorse this site or its contents.