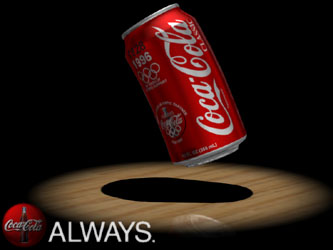 "Always Coca-Cola"

AVI Info
Movie: cokecan.avi

File size is 3.30M
Zipped size is:922KB
Average data rate is 103.35K per second
Contains 1 video track(s) and 0 audio track(s).

Video track 1:
Total duration is 30.06 seconds
Size is 3.20M bytes (average frame = 6.85K bytes)
There are 451 keyframes.
Frame rate is 15 fps
Frame size is 240 x 180
Depth is 8 bits.
Compressor: 'CRAM', Microsoft Video 1

Compressed with Adobe Premiere 4.2

Download the "Always Coca-Cola" AVI.

View details of the "Always..." 3D Studio project.

Click any of the icons on the left to view AVI information.