8880 Rennen-Straße
56070 Geschwindigkeit, GmbH
+49 261 / 918448-0
The Sehr Schnell 8448 BiTurbo Performance Kit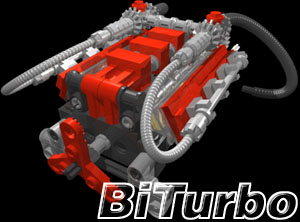 Including:
2 KKK K28 turbochargers
2 increased capacity intercoolers
2 Reinforced valve covers with freeflow exhaust ports
2 Stainless steel braided exhaust manifold hoses
8 Increased flow fuel injector jets (.45 restrictor)
2 Stainless steel braided intake hoses
2 Increased flow (80mm) exhaust hoses
1 ECU upgrade chip
1 Anodized Alloy Body Color Fan
All necessary mounting hardware

Price: $7599 (US)

(Click the brick to download the .DAT kit documentation)
At the heart of the Sehr Schnell 8448 BiTurbo kit are 2 KKK K28
turbochargers, one added to each bank of cylinders, increasing the
ignition air pressure to1.6 bar (23.4psi). This, mixed with a richer
fuel intake (controlled by the upgraded software chip) results in a
dramatic increase in overall engine performance.


The K28 sports a larger intake port and wastegate, (compared
to the K26 model) thus allowing for greater pressures
and less restrictive flow-through. To reduce turbo lag, the impeller
mechanism is forged from titanium components to decrease
rotational mass
Dynomometer results for the stock and upgraded 8448
clearly indictate the dramatic power increase that our kit
provides. The Super Street Machine is taken from its stock
292 bHP to 416 bHP and torque is increased by more
than 80%, going from 219 ft-lbs to 388 ft-lbs.

0-60 times drop from 5.9 seconds for the stock V8 to
4.4 seconds with the Sehr Schnell 8448 BiTurbo Kit.

There is simply no describing the difference an upgrade like
this makes. The car jumps aggressively from the line and
doesn't stop pulling throughout all 5 gears. Even stabbing
into the accelerator at highway speed is replied to by an
almost overwhelming punch of torque.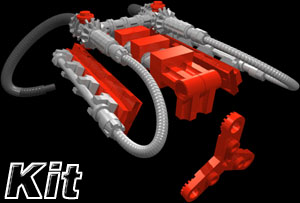 Return to the main Sehr Schnell page