8880 Rennen-Straße
56070 Geschwindigkeit, GmbH
+49 261 / 918448-0
The Sehr Schnell 8448 Racing Seat
(with 4-point safety harness)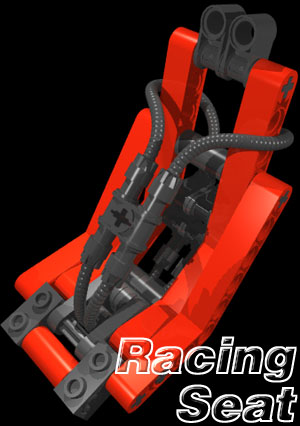 Sehr Schnell now offers a fully race-spec driver's seat for the 8448.
Created entirely of machined-aluminum, carbon fiber and lightweight
fabric, this racing seat meets all BTCC™ and SCCA™ specifications.
Using an integrated 4-point harness means that you'll have the
stability and safety necessary to contend with the higher-end
performance upgrades we offer.
Including:
1 Carbon fiber seat shell
1 Nylon fabric seat covering (body color)
1 Machined-aluminum seat-to-frame mount
1 4-point safety harness (aluminum, carbon fiber and nylon straps)
All necessary mounting hardware

Price: $1299 (US)
*Seats can be custom-fitted to drivers at an additional charge.
*Seat covers can be custom-dyed and logo'd at an additional charge.

(Click the brick to download the .DAT kit documentation)
In racing performance, the most important aspect to consider
is safety. When any vehicle is upgraded to race-ready status
the overall safety makeup of the car must also be
upgraded to match.

With the Sehr Schnell 8448 Racing Seat, the driver is seated
in a carbon fibre shell, which is mounted directly to the car's
frame. Then, the 4-point harness is fastened and can be adjusted
in all 4 directions for a perfect fit.

The harness it mounted directly to the seat frame and
features a single-button quick-release, which can be integrated
into an on-board fire control system for automatic triggering.

The straps are made from high-density woven nylon with a
breaking point of 1.2 tons.
Sehr Schnell offers the ability to ulitimately customize
your racing seats by allowing driver fittings and custom
fabric designs.

You can schedule an appointment with us to have your
driver's body molded (approx. 1 hour). We then create a
custom mold and the carbon fiber shell of the seat is
contoured to fit before the epoxy coat is laid down.
This means your driver will have a seat that is made to
fit his every curve, for maximum comfort.

We also offer customized color and logo designs on the
nylon fabric of the seat cover. Standard covers are red and
black (to match the 8448 stock body) but we can custom
dye the fabric to practically every Pantone™ color. We can
also silk screen or embroider any custom logo, allowing you
to create the ultimate "team" experience.
Return to the main Sehr Schnell page