8880 Rennen-Straße
56070 Geschwindigkeit, GmbH
+49 261 / 918448-0
The Sehr Schnell 8448 V10 Engine
The beauty of the 8448's modular design is that it lends itself
perfectly to class series racing. With the ability to quickly and
(relatively) easily switch out engines, race teams can configure
the 8448 to fulfill a variety of competition roles. Sehr Schnell is
tapping into this versatility to bring you the most diverse
selection of engine applications possible.
The Sehr Schnell V10

Increasing the stock 8448 V8's 5.4 litres of displacement
to 6.8, the Sehr Schnell 8448 V10 takes the Super Street
Sensation off of the street and transforms it into the
"Super Track Sensation"!

Using a forged aluminum block, weight-gain is minimized,
while power is increased by over 60%. The performance
characteristics are completely changed with increased
acceleration and a larger torque/Hp envelope.

All components are blueprinted and balanced, prepped for
mounting and ready to race.
The V10 engine utilizes the same port injection as the
stock V8, but uses larger intake jets and a more aggressive
ECU mapping.

All of the Sehr Schnell engine kits can be upgraded using an
appropriate Turbo or Supercharger, so the possibilities are
almost limitless. Depending upon class, rules and limitations,
you can outfit your 8448 racer to the optimum vehicle on the track.

Price: $14,999 (US)

(Click the brick to download the .DAT kit documentation)
Full "plug and play" mounting

Sehr Schnell has capitalized on the 8448's modular system design and has managed to fit the V10 into the existing framework with no modifications.

By engineering a shorter transmission (with identical gearing to the stock configuration) we have been able to eliminate frame changes to accommodate the larger powerplant. The standard front motor mounts are retained and utilized in the usual position and manner.

Dynomometer results for the stock 8448 V8 and the Sehr Schnell
V10 show the awesome power that a larger displacement
engine can provide.


The Super Street Machine is taken from 292 bHP (at 5900 rpm)
to 462 bHP (at 4500 rpm) and torque is increased by more
than 80%, going from 219 ft-lbs (at 6000 rpm) to
418 ft-lbs (at 4400 rpm). The V10 also has a larger rpm band,
allowing revolutions up to 9500/min. The bHP and torque
curves exhibit the favorable "elephant back" shape, and hold
their power output throughout an outstanding portion of the
overall envelope.

0-60 times drop from 5.9 seconds for the stock V8 to
a possible 4.0 seconds with the Sehr Schnell 8448 V10
(depending on the level of race-prep other aspects of the
car have undergone).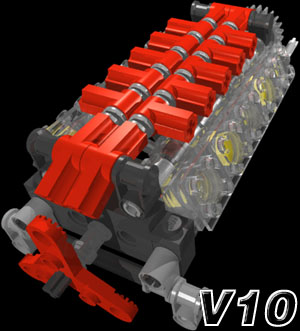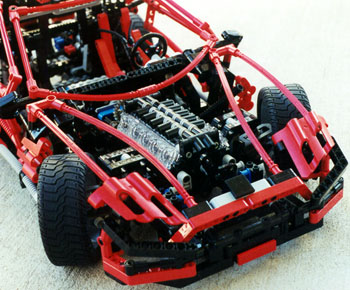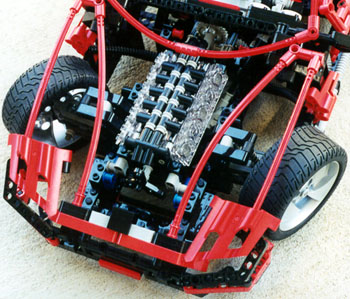 Return to the main Sehr Schnell page