8880 Rennen-Straße
56070 Geschwindigkeit, GmbH
+49 261 / 918448-0
The Sehr Schnell 8880 Performance Exhaust Kit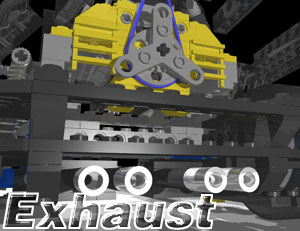 The stock 8880 exhaust is very restrictive and creates
the only bottleneck throughout the entire powertrain.
It's dual outputs, while ample in size, are too few to
accommodate the hefty 5.0 litres of displacement.

To create a smooth outflow of exhaust gases,
Sehr Schnell offers an upgraded cat-back system.
This system enhances Hp by freeing up output, both by using
larger diameter exhaust tubing (60mm) and increasing
the tubing from dual to quad.
The surface appearance of our system can be customized
with 2 different options, large, flared, brushed aluminum
tips or smooth, straight, polished chrome

Including:
4 Catalytic converter connectors
4 36" Aluminum exhaust tubes (60mm)


Either:
4 Flared, brushed aluminum tips
or
4 Straight, polished chrome tips
All necessary mounting hardware


Price: $1059 (US)

(Click the brick to download the .DAT kit documentation)
Return to the main Sehr Schnell page