8880 Rennen-Straße
56070 Geschwindigkeit, GmbH
+49 261 / 918448-0
The Sehr Schnell 8880 Sport Suspension Kit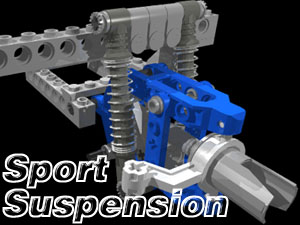 A lower, firmer ride is essential for both racers and street enthusiasts.
Now Sehr Schell offers you the ability to lower the ride height of your
8880 Supercar by 30LDU. This dramatically increases ride stiffness,
cornering ability and overall aerodynamic stability.
Including:
12 Reinforced aluminum suspension drop mounts
12 Forged alloy mount-to-frame connectors

Price: $449 (US)

(Click the brick to download the .DAT kit documentation)
Installation of the Sehr Schnell Suspension package
is a basic, do-it-yourself procedure and can be
accomplished using a standard set of suspension
modification tools. Approximate time for changeout
3.5 to 4 hours.

The upper connecting rod is removed.
All 12 standard suspension-to-frame mounts are
removed, thus freeing the upper shock absorber
mounts to move.

3 Forged alloy suspension mount connectors are then
installed at each corner of the car.


3 reinforced aluminum susupension drop mounts are
connected and the original upper connecting rod is
put back into place.

The final ride height is lowered and the effects can be
felt immediately. Less wind resistance results in faster
straightaways and the stiffer handling equals quicker
cornering. Not to mention the surface quality of a much
more "aggressive" looking vehicle.
Return to the main Sehr Schnell page