8880 Rennen-Straße
56070 Geschwindigkeit, GmbH
+49 261 / 918448-0
The Sehr Schnell 8880 Project Car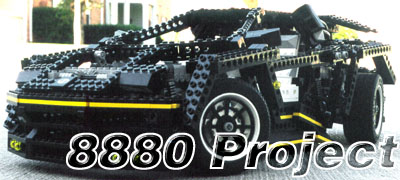 Sehr Schnell has taken one of their own 8880 Supercars and created
the ultimate upgrage machine.
Utilizing the best of every 8880 upgrage we sell, the 8880 Project Car
is the most powerful, most aggressive, best handling machine in
its class. Just take a look at you can do with Sehr Schnell
performance parts...
Here you can see the multitude of options we've applied to
our company racer.
The front, rear and sides are all adorned with our Aero Kits
for maximum ground effects and aerodynamic efficiency.
Just through the fender you can see the Sport Suspension Kit
in place.
Mounted on each side, behind the side windows, are the intake
scoops for the Sehr Schnell Supercharger, the tell-tale sign that
this V8 has been taken all the way to the edge!
And don't forget the signature Sehr Schnell Sport Wheels, topping
off the car with a final snarl towards the world.
With the hood up we get a spectacular view of the Supercharger.
The rear valence kit wraps the rear and brings the lines of the car
to a smooth and graceful end.
The Polished Chrome Exhaust can be seen in the center of the
valence, adding to the statement the car makes.
The US Tailights can be seen on the raised trunk and the
modified bodywork (to house the supercharger) is obvious
to the experienced eye. Note the raised (and reinforced)
spoiler mounts.
The intake hoses for the supercharger can be seen, and we
again get a glimpse at the lowering mounts of the
Sport Supsension Kit.
Notice that the car is prepped for competition with its single
seat.
The beefier rear fender is clearly evident (part of the Aero Kit)
and the supercharger intake scoops loom forward, ready to
gulp in enough air to propel you straight into next week.

Once again, a shot that really shows off just what years of
R&D can do for a street machine.
The car appears stout, bulletproof and ready to pounce.
It's honest to say that this vehicle, due to its street-legal
status, has been the envy of many at the perpetual
impromptu residential drag meets.
A fantastic view of the supercharger and all of its components.
This also gives a great perspective on the widened rear fenders
and just how much more "grown up" the 8880 looks after our
endeavors.
| | |
| --- | --- |
| Simply put: This is what our competition sees. | |

Return to the main Sehr Schnell page